Basic Grading Systems for flowers
Chrysanthemum sorting machine
The FMO-2500 and FMO-3000 type grading line offers you an accurate sorting for Chrysanthemum & more.

The systems have an electronic or mechanic balance system, and can automatically bind bundles of 10. 

The systems are equipped with a PLC-control, for perfect system operation.
FMO-2500
Flower Grading Line
"By using the FMO-2000 system, you can increase your value in the market by supplying constant quality, and at the same time save on labour costs. The FMO-2000 grading line is supplied by Shinwa Co, Japan."
The fixed size cut flowers are measured with an electronic balance and automatically tied into 10 flowers each and stored in a storage box

Bundling position is constant and product finish is beautiful

One-touch operation for weight and lenght setting

Catalog the flowers into 4 classes.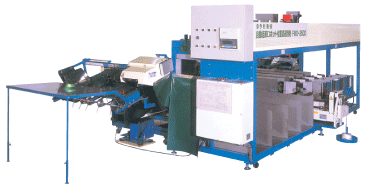 FMO-3000
Flower Grading Line
Labor saving sorting work, chrysanthemum sorting machine with lower leaf removing device
Universal type weight sorting machine with original lower leaf picking device

Automatically cuts to a predetermined length, and sorts each one with light weight

Overwhelmingly faster and more accurate than manual work

Universal type weight sorting machine with original lower leaf picking device
Light work
1 or 2 persons feed the FMO machine with 1 flower each time. They check each flower and place it on the holders. The bad or damaged flowers are removed immediately. As a result, you only get bunches of good quality flowers.
Checking
Every flower is first sawn to length and then the weight is determined immediately. It is then carefully transported and released in the compartment with the correct weight class. This is a fully automatic system.
Binding
When the right amount of flowers have fallen into the compartment, the total bunch is picked up by a grab and transported to a binding machine. The bunch is then tied in 1 or 2 places.
Sleeving
The bunches are now placed in the right compartment by the grab. They can now be taken out, be sleeved and put in the boxes for shipping.
Capacity: 2.500 stems/hour (FMO-2000)
3.000 stems/hour (FMO-3000)

Grading: 5 grades, 4 graded bound

Weighing: Electronic (FMO-2000 & 3000ELC)

Mechanical (FMO-3000LC)
Binding: Polyethylene

Air: Integrated compressor

Weight: 600 kg

Power: 3 Phase, 200V + E
"Flower Grading
in action"
Do you have more questions about

Flower Grading?